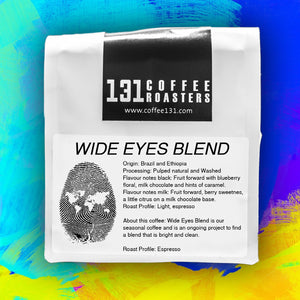 Wide Eyes Blend
Wide Eyes Blend is our seasonal coffee and is an ongoing project to find a blend that is bright and clean. 
Currently we have two beautiful countries that are well known to produce some of the world's best coffees. Sourcing a great Brazilian produced by farmer Edurado Tozi, and a Ethiopian from Yirgacheffe region. We've created a true crowd pleaser.
Equally suited to those that love their coffee with milk or black. A clean tasting coffee that we also highly recommend as filter style of coffee.
 Information:
Origin: Brazil and Ethiopia
Processing: Natural 
Flavour notes black: Fruit forward, berry sweetness, a little citrus on a milk chocolate base, smooth like caramel.
Flavour notes milk: Sweet, caramel and milk chocolate finish.
Roast Profile: Light, espresso
Espresso Recipe
Dose 18g
Yield 40g
Time 24-27sec
Temp 96 degrees celsius