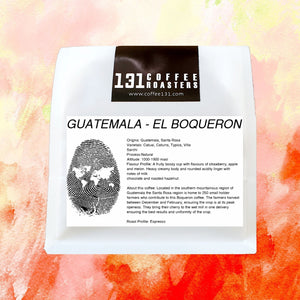 Guatemala -El  Boqueron
Origin: Guatemala
Region: Santa Rosa
Producers: 250 small holder farmers
Altitude: 1000 - 1900masl
Variety: Catuai - Caturra - Typica - Villa
Sarchi
Process: Natural
Tasting notes: A fruity boozy cup with flavours of strawberry, apple and melon. Heavy creamy body and rounded acidity linger with notes of milk
chocolate and roasted hazelnut.
About this Coffee:
Located in the southern mountainous region of Guatemala the Santa Rosa region is home to 250 small holder farmers who contribute to this Boqueron
coffee. The farmers harvest between December and February, ensuring the crop is at its peak ripeness. They bring their cherry to the wet mill in one
delivery ensuring the best results and uniformity of the crop. After removing any small sticks and leaves, the cherry is sun dried on patios until a
desired moisture content of 12% is reached. Although this particular batch of coffee is not Rainforest Alliance Certified, the Mill which processes the
coffee in this region is. This certification has helped the farmers and mill operators make positive changes for the community including installing a
water treatment facility.The careful selection of cherry during harvest and natural sun drying leaves this coffee with notes of strawberry, cherry,
tropical fruit and caramel.