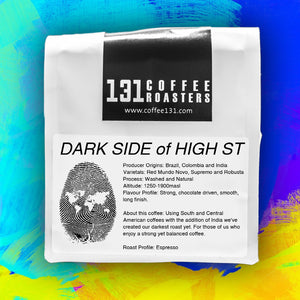 About this coffee:
Using South and Central American coffees from our popular High St blend, with the addition of an Indian coffee we've created our darkest roast yet. A small amount of robusta is balanced by sweetness brought on by the arabica types. The robusta we've chosen to include makes up a very small percentage of the blend. It is also high grown and clean in taste giving this coffee quite a powerful flavour so is suited to those looking for 'strong coffee'. 
Information
Producers: Colombia (50%), Brazil (35%), India (15%)
Cupping notes:

 
Bold and strong, chocolate driven, sweet, smooth, long finish.
Certifications: 
Contains Rain Forest Alliance certified coffee.