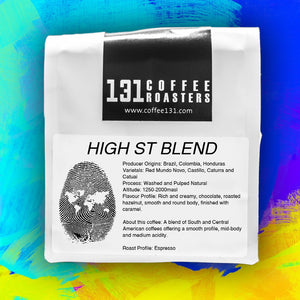 About this Coffee
This is our High Street Blend named after the main road through our local country town. Using only the finest single origin coffees with sustainability in the forefront and is ethically sourced. Our aim was to deliver consistently great tasting coffee all year round so that you could enjoy it no matter the season. We've delivered this by sourcing coffees that not only taste great by themselves but when blended, produce our signature taste and that is to make blends that you can trace back to the single origin from which they came from. Cupping notes for this coffee are not complex nor should they be as other blends are. We're proud as roasters that this coffee stands amongst the best of blends available.
Information
Producers: Colombia (40%), Brazil (40%), Ethiopia (20%).
Cupping notes: Rich and creamy, milk chocolate, roasted hazelnut, smooth and round body, finished with toffee.
Certifications: A mix of organic, UTZ and Rainforest Alliance.
Roast Depth: Medium - Espresso